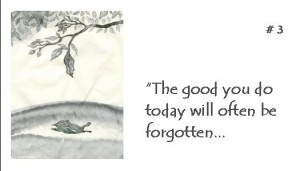 We spend much of our lives in search of recognition. We strive for greatness, and often succeed, but truly Divine accomplishments are those that find their freedom in selfless service to others.
Thankfully, we are given infinite opportunities to recognize the truly good Spirit that we all are, and are part of, and life presents us with unending freedom to share our kindness with the world.

It is incredibly easy to be kind, takes very little of our time, and though the contagious effects are far reaching and long lasting, it is not results that soothe our souls, it is actions.
Take someone's hand as you cross a busy street. Play a song on the jukebox that you know will create a smile. Clip a newspaper article that you think may enrich someone's life. Pass along a kindness card, and the spirit of giving it represents.
Assemble your thoughts with a grateful heart, and transform them into acts of kindness.
Wait for no moment. This present moment is the only place you can possibly be, and it is you who must make it profound and unforgettable.
Remember that true wealth is an awareness of Spirit. Live a life of kindness and acts of compassion, and you'll create timeless moments that fill the years with peace and joy.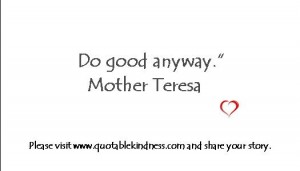 Light up the Universe with your Smile!!!
Today is a wonderful day to be kind.
Thank You sincerely for sharing your goodness with the world.
***
Free download of printable Kindness Cards here.
A year of kindness quotes here.